G&K Profile
Kevin D. Neal
Shareholder
---
My Practice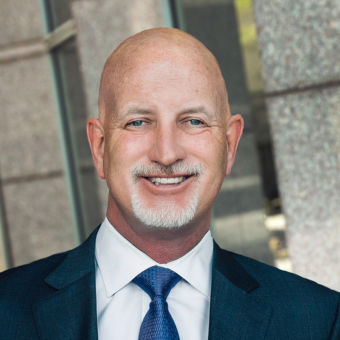 Kevin is a formidable and proven trial advocate with more than 30 years of experience in injury and death cases. His practice focuses on high-profile and complex claims involving commercial disputes, fraud, aviation crashes and the handling of wrongful death and catastrophic personal injury. Driven to provide his clients with the answers they deserve, Kevin zealously defends the rights of individuals and families wronged by powerful organizations and large corporations.
Fearless in the pursuit of justice, Kevin has obtained stellar results on behalf of his clients, including significant, multi-million-dollar recoveries. A masterful tactician who believes in meticulous and comprehensive case analysis, preparation, and investigation, Kevin is valued for his convincing and influential written and oral arguments, ability to establish trust and rapport, and highly effective negotiation skills. Kevin's ability to tell each client's unique story both in and out of court and before judges and juries alike make him a veritable force when it comes to realizing the right result.
In addition, Kevin is frequently sought out by other lawyers requiring a skilled and experienced trial advocate to either handle or work with them on their cases. He is frequently asked to serve as co-counsel on such matters because of his proven track record of success, intellectual acuity, relentless tenacity, and extraordinary drive to succeed. Moreover, Kevin is dedicated to bringing individual attention and the full force and intellect of the firm to bear for his clients.
After graduating from the University of Kansas, Kevin completed his legal studies at the Arizona State University College of Law. He is admitted to practice before all Arizona State Courts, the United States District Court for Arizona, and the United States Court of Appeals for the Ninth Circuit. Kevin has represented clients throughout Arizona, as well as in California, New Mexico, Nevada, Texas, Alabama, Georgia, and Alaska. A member of the Arizona State Bar, the Maricopa County Bar Association, and the American Bar Association, Kevin also earned the prestigious AV rating from Martindale-Hubbell and has been honored in "Best Lawyers" and "Super Lawyers" over his many years of practice.
Community involvement is a large part of who Kevin is outside of the law. He served on the Board of Directors for the Valleywise Health Foundation (VHF) as its Chairperson. VHF is an organization that supports the mission of Arizona's only public safety net medical facility, the Arizona Burn Center, and the largest teaching hospital in the region. In addition, Kevin is an Arizona Ranger serving as a training and firearms instruction.  He is also a member of the New York based Explorers Club.
Kevin's many personal interests include flying, scuba diving, skiing, climbing, and competitive shooting sports.
Representative Cases
Obtained $12 Million Jury Verdict in Breach of Fiduciary Duty Case
After a 3-week trial, a Ventura County jury rendered a unanimous verdict in favor of Kevin's client, awarding $10M in compensatory damages and $2M in punitive damages, finding that the Defendants breached the parties' agreement, the implied covenant of good faith and fair dealing, and its fiduciary duties to the Plaintiff.
Obtained a Proposed $15 Billion Settlement from Chemical Manufacturers in Tort Product Liability Suit
Kevin Neal and Ken Ralston were local counsel in a multi-district litigation that resulted in a $15 billion settlement. The firm represented the City of Tucson, Town of Marana, and City of Mesa, in a groundwater contamination and tort products liability case against multiple chemical manufacturers, including 3M Company, in City of Tucson, et al. v. 3M Company, et al.  The terms of the proposed settlement are being reviewed by the court and pending approval.
Obtained Favorable Result from U.S. Supreme Court in Whistleblower's False Claims Act Case
Kevin Neal and Ken Ralston obtained a major victory before the U.S. Supreme Court in Olhausen v. Arriva Medical, LLC, U.S. Kevin and Ken represent a former employer of Arriva Medical who brought suit alleging that Arriva, Abbott Laboratories, and Alere were defrauding the government by submitting false claims to Medicare, resulting in Medicare paying the companies upwards of $100 million. The trial judge dismissed the case and the Court of Appeals affirmed. But, in a major victory for whistleblowers, the Supreme Court reversed and remanded the case to the Eleventh Circuit.
Obtained record-setting $85M settlement for State of Arizona in consumer fraud case against Google.
Gallagher & Kennedy attorneys Kevin D. Neal and Kenneth N. Ralston successfully represented the State of Arizona and the Arizona Attorney General's Office in the lawsuit against Google for deceptive and unfair practices involving user location data. As lead counsel, Kevin obtained the $85 million settlement – the largest amount per capita the internet giant has paid in a privacy lawsuit of its kind – from Google to settle claims brought against the company under the Arizona Consumer Fraud Act in State of Arizona v. Google.
Recovered $1,125,000 settlement in major plane crash case in Alaska.
Kevin represented a passenger who was severely injured when the chartered seaplane flew into the side of a mountain during bad weather in Ketchikan, Alaska. The client, who was from Arizona, suffered a severe back injury. The case proceeded in Alaska Federal Court. Kevin's settlement of $1,125,000 was the largest amount paid to any of the eight passengers who brought claims against the air charter business in Alaska.
Bar & Court Admissions
Arizona, 1987
U.S. District Court, District of Arizona
U.S. Court of Appeals, Ninth Circuit